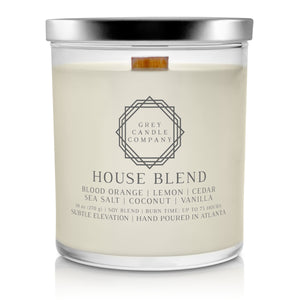 instant classic
the moment this fragrance began to fill the room i understood why the folks at grey consider this a "house blend." this one-of-a-kind scent fits any season or time of day, and any mix of company. it's not too masculine or feminine, not too fussy or heavy. the overall effect is class and comfort. this will be the first of their candles that i repurchase in a larger size, i just know it!
This scent got me hooked!
Love this candle - I received the 3.5oz tin as a gift and ordered the 10oz glass version after just a few burns of this candle. It is so nice and relaxing and is the perfect accompaniment to unwind with at the end of the day. Highly recommend!
Wonderful!
I love this candle. These are by far the most well scented candles I've ever used--I light one and the smell spreads throughout my apartment. I also love the wax melts of this scent.
My favorite scent so far! It's definitely smooth, was worried the citrus might be overwhelming (don't usually buy those scents) but it's the perfect blend.
Smells great and burns well