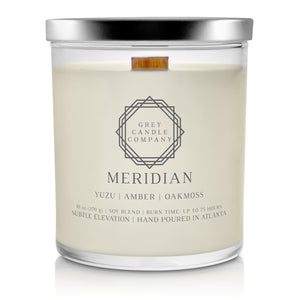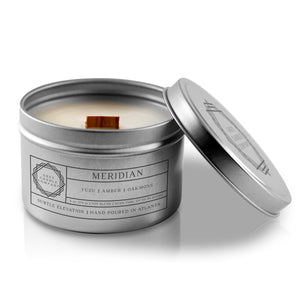 sets just the right mood
a masterfully balanced unisex home fragrance! the scent is rich and warm, the woods and herbs ensuring that it is not too sweet and not too citrusy. it's friday afternoon as i write this review, and my husband has decided to light this one in our home office to ease us into the weekend a little early. and it's working, my friend. i might not make it to 5pm...
Smells GOOD AF
Loving the smell of these candles. Upon lighting the candle, I️ can immediately tell the ingredients from these candles differ from other brands, as I️ smell each of the ingredients that are listed. Happy that these don't use any harmful chemicals too. I'll definitely be buying some more!
how i love this candle
meridian is the perfect summer afternoon/evening scent. i could burn this one all day. i want to buy it for people i have a crush on as a mixtape type of candle. the citrus of the yuzu is such an amazing foil to the verdant woodsy amber and slightly musky oakmoss. i absolutely love candles that utilize mossy or grassy tones because they're so unique and meridian is such a testament to how those earthy, chlorophyllic scents can really, really shine! it's perfect with cup of tea and a book on a rainy afternoon to yourself, just that cozy and enjoyable type of feeling. (the wooden wicks are awesome btw for people with sensitive eyes!)